MerchTilIDie's Puro Puro/Impetuous Impulses guide
Table of Contents
-Information on Imps
-Requirements
-Recommendations
-Gear Setup
-Inventory Setup
-Path to Puro Puro
-Tactics
-Conclusion
-Credits
Information on Imps
58 hunter - Nature implings
65 hunter - Magpie implings
74 hunter - Ninja implings
83 hunter - Dragon implings
91 hunter - Kingly implings
Nature implings - 3k GE price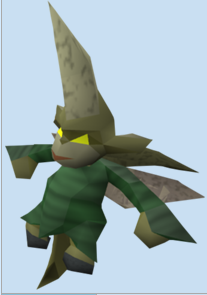 Drops: Cactus spine, Clean snapdragon, Clean tarromin(4)(noted), Clean torstol(2)(noted), Coconut, Grimy snapdragon, Grimy torstol(noted), Magic logs, Avantoe seed(5), Belladonna seed, Curry tree seed, Dwarf weed seed, Harralander seed, Irit seed, Jangerberry seed, Kwuarm seed, Limpwurt seed, Orange tree seed, Ranarr seed, Snapdragon seed, Torstol seed, Willow seed
Magpie implings - 16k GE price
drops: Dragon dagger, Rune claw, Rune scimitar, Rune warhammer, Mystic boots -Blue-, Mystic gloves -Blue-, Rune sq shield, Splitbark gauntlets, Amulet of power(3)(noted), Black dragonhide(6)(noted), Diamond(4)(noted), Diamond amulet(3)(noted), Loop half of a key, Nature tiara, Ring of forging(3)(noted), Ring of life(4)(noted), Rune bar(2)(noted), Sinister key, Tooth half of a key, Pineapple seed, Snapdragon seed
Ninja implings - 16k GE price
drops: Opal machete, Rune claw, Rune scimitar, Rune warhammer, Mystic boots -Black-, Mystic boots -Blue-, Mystic gloves -Black-, Mystic gloves -Blue-, Rune chainbody, Snakeskin boots, Splitbark gauntlets, Splitbark helm, Onyx bolts(2), Rune arrow(70), Rune dart(70), Rune knife(40), Rune throwing axe(50), Black dragonhide(10)(noted), Dagannoth hide(3)(noted), Loop half of a key, Onyx bolt tips(4), Prayer potion (4)(noted), Sinister key, Tooth half of a key
Dragon implings - 208k GE price

drops: Opal machete, Rune claw, Rune scimitar, Rune warhammer, Mystic boots -Black-, Mystic boots -Blue-, Mystic gloves -Black-, Mystic gloves -Blue-, Rune chainbody, Snakeskin boots, Splitbark gauntlets, Splitbark helm, Onyx bolts(2), Rune arrow(70), Rune dart(70), Rune knife(40), Rune throwing axe(50), Black dragonhide(10)(noted), Dagannoth hide(3)(noted), Loop half of a key, Onyx bolt tips(4), Prayer potion (4)(noted), Sinister key, Tooth half of a key
Kingly implings - 517k GE price

drops: Dragon 2h sword, Dragon longsword(2)(noted), Dragon spear, Dragon arrow(60-142), Dragon bolts(41-60), Onyx bolts(40-60), Amulet of glory (4)(noted), Crystal key(2), Crystal triskelion fragment 1, Crystal triskelion fragment 2, Crystal triskelion fragment 3, Dragon arrowheads(77-150), Dragon bolt tips(56), Dragon dart(187,222,305), Dragon dart tip(212-300), Dragonstone(6)(noted), Onyx bolt tips(47-69), Royal amulet, Royal crown, Royal leggings, Royal sceptre, Royal shirt, Rune arrowheads, Rune bar(10,59-69)(noted), Shield left half, Uncut diamond(15,26)(noted), Uncut dragonstone(5)(noted), Uncut onyx
It's up to you whether you choose to loot the implings or not, but for the safest profit, only loot the natures and save the rest.
--------------------------------------------------
Requirements
You need at least one of these done in order to get there.
Completed "Lost City" quest
Have a friend who has completed "Lost City" who is willing to help you
Completed "Fairy Tale part 2" quest
Access to the cosmic altar through wicked hood or the abyss
--------------------------------------------------
Recommendations
65+ hunter
79 mage for entangle
High thieving level
--------------------------------------------------
Gear Setup
Besides having a butterfly net/Magic butterfly net, the gear really doesn't matter. As long as you have a decent magic bonus along with items to make you weigh less, you will be fine.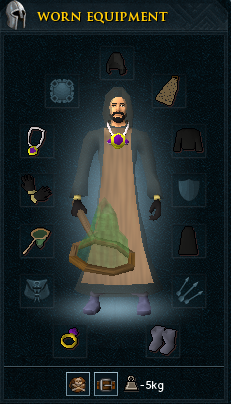 Ghostly Hood
Ghostly Robe Top
Ghostly Robe Bottoms
Amulet of Glory
Ring of Wealth
Magic Butterfly Net
And for weight reduction:
Boots of Lightness
Spottier Cape
This is my preferred set up, mainly because it's very light and gets the job done without me having to spend over 30k
(The magic butterfly net increases your chance of catching an impling. In order to get it you must talk to Elnock inside the minigame and give him x3 Gourmet implings, x2 earth implings, and x1 essence impling)
--------------------------------------------------
Inventory Setup
it's best to leave at least 4 spaces available, this is for later on.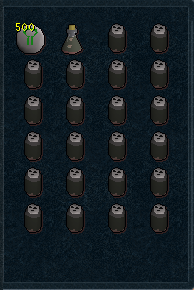 x500 Nature Runes Used for entangle
x1 Imp Repellent this stops imp defenders from releasing imps from your inventory (You can buy this from the Grand Exchange or from Elnock for 3 baby implings, 2 young, and 1 gourmet) Having a high thieving level reduces the chance for imp defenders to steal anything off of you. If you have 99 thieving it is incredibly rare for you to lose anything, and so you will not need this.
x22 Impling Jars
*note those who have not completed fairy tale part 3 will need either a lunar staff or a dramen staff in order to get into the lost city
--------------------------------------------------
Path to Puro Puro
What you're going to want to do, is open up your lodestone network, and teleport to lumbridge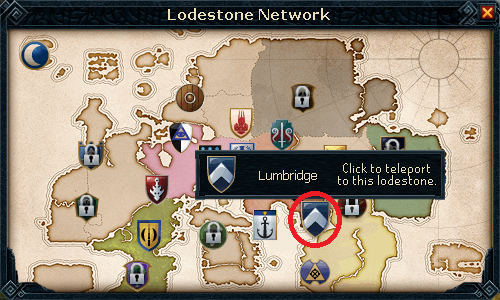 And from then on you need to go to the small house and equip your lunar staff/dramen staff, and walk into the Lost City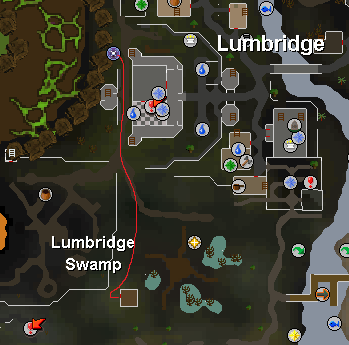 Welcome to the lost City!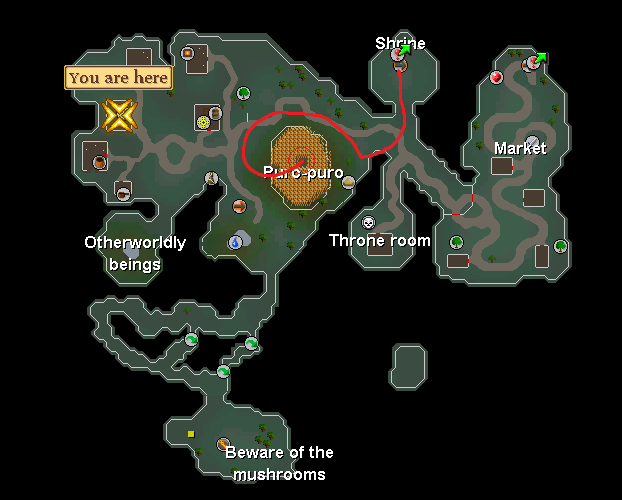 Follow the red line to the middle of the wheat field, and enter the "centre of crop circle"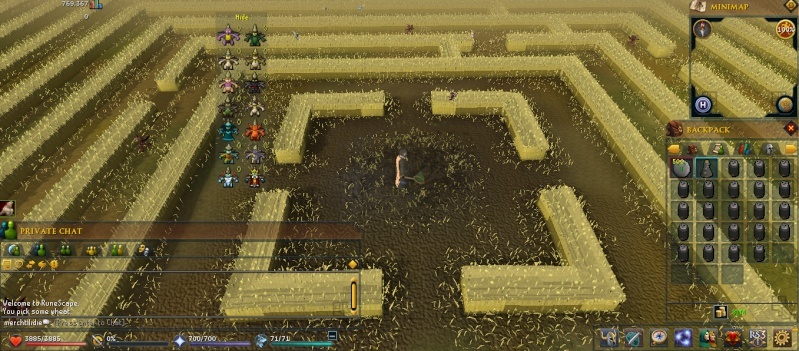 For those of you who have not completed Lost City, this is where you will need a friend.
Ask your friend to go to the wheat field in zanaris, and ask the wandering imp where the current crop circle is on that world. Getting to puro puro through one of the random crop circles will give you a 30 minute speed boost when pushing through wheat barriers.
For those of you who have completed Fairy Tale part 2, you can gain access to Zanaris via fairy rings.
For those of you who have none of these, you will need either a wicked hood, or need to go to the abyss and travel to the cosmic altar. From there you can exit and you will find yourself in Zanaris.
--------------------------------------------------
Tactics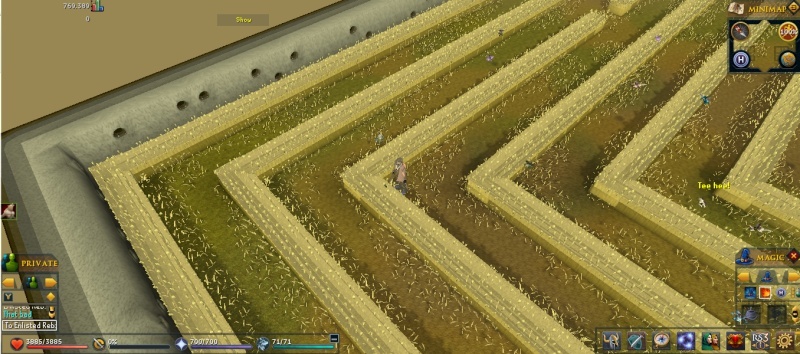 Go to the North East corner, 3rd row in. Since you don't need most of the dialog boxes and what not, I make them as small as possible, with entangle available to cast.
From here you are going to start running laps around the maze, searching for any Nature, Magpie, Ninja, Dragon, or Kingly implings.
If you see a lot of pirate implings, switch worlds. These count as "rare" implings and will stop the Nature, Magpie, Ninja, Dragon, or Kingly implings from spawning in that world.
Stick to highly populated worlds, as they have higher spawn rates, or you can stick to the North East corner and world hop.
You can push through each section of magical wheat in order to access other parts of the maze
If you see a rare impling, it's best to cast entangle on them (bind and snare work just as well). This will stop them from moving and allow you to run up and catch them.
All imps have different spawn rates, and the more rare they are, the slower spawn they have. This being said, if you catch 2-3 dragon or kingly imps in a short amount of time, it's unlikely for any more to spawn in that world for another 2+ hours.
--------------------------------------------------
Conclusion
The only implings that you should loot are the natures, they will give you a good bit of junk, but their rare items make up for 5-10 of the junk ones. Drop everything besides avantoe seeds, dwarf weed seeds, torstol seeds, grimy torstols, and clean torstols.
--------------------------------------------------
Credits
Thanks to Gummy for allowing me to bounce off of the format that he made for his last guide
pictures and drop rates from tip.it/runescape
Special Thanks to the guide verification team for giving me in-depth details on what I missed prior to making the original guide.
Happy Hunting!
Last edited by MerchTilIDie on 5/1/2014, 4:36 am; edited 3 times in total

MerchTilIDie

Tier 4 (500 posts)






Reserved.

If any one has any complaints/suggestions feel free to comment and let me know how to improve this guide, it would be very much appreciated!



MerchTilIDie

Tier 4 (500 posts)






Just a correction, those who have completed fairy tail part 3 do not need a lunar or dramen staff to enter the lost city, apart from that nice guide

.

Natsu

Event Demon





Gintoki wrote:Just a correction, those who have completed fairy tail part 3 do not need a lunar or dramen staff to enter the lost city, apart from that nice guide

.
fixed it.
Thank you very much!

MerchTilIDie

Tier 4 (500 posts)






i am speaking for all these nubs that need to read this, THIS is how Hunter becomes a good source of income

maybe you could incorporate the profit with kingly/dragon implings too
and wether or not to loot them

repped you for the guide

jokerman

Tier 4 (500 posts)






jokerman wrote:i am speaking for all these nubs that need to read this, THIS is how Hunter becomes a good source of income

maybe you could incorporate the profit with kingly/dragon implings too

and wether or not to loot them

 

repped you for the guide
Yeah this is how I used to make money aside from merching back in like 2010
the 4m an hour is with kingly and dragon implings, because you will usually encounter 1-3 kingly's and 0-3 dragon implings every hour. If you aren't catching those two, your profit will be more like 600k-1.5m an hour. You never want to loot anything past natures, which is what I put in the conclusion. This is mainly because of the shitty economy and so you'll almost never make money from looting magpie-kingly implings :\
Much appreciated


MerchTilIDie

Tier 4 (500 posts)






Great puro puro imp catching guide


EliteOpz

Tier 2 (100 posts)






Added in pictures for the implings, along with their drops, levels required to catch them, and I tweaked the tactics part, along with adding in the different ways to get to puro puro and or Zanaris

MerchTilIDie

Tier 4 (500 posts)







---
Permissions in this forum:
You
cannot
reply to topics in this forum