Hey guys!
I built my own computer ~2 years ago. At the time, it cost me $1070.
A few things I was gifted and didn't have to purchase:
27" HD Monitor
Logitech Mouse
Logitech Keyboard
Kickass office chair
Basically, I didn't have to spend any money on peripherals!
I'm thinking about selling and upgrading soon!
Here she is:
Gallery:
PCPartPicker part list / Price breakdown by merchant / Benchmarks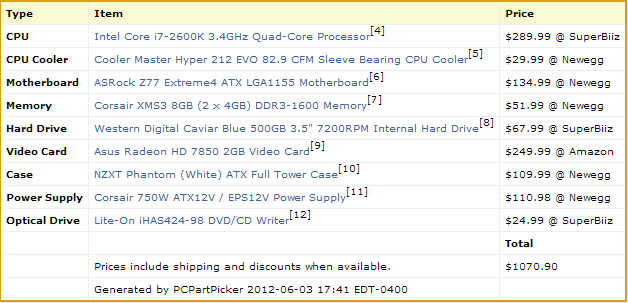 All the links(these are current prices, so you can compare):
CPU:
 Intel Core i7-2600K 3.4GHz Quad-Core Processor  ($339.99 @ Mac Mall)
CPU Cooler:
 Cooler Master Hyper 212 EVO 82.9 CFM Sleeve Bearing CPU Cooler  ($29.94 @ OutletPC)
Motherboard:
 ASRock Z77 Extreme4 ATX LGA1155 Motherboard  ($128.48 @ OutletPC)
Memory:
 Corsair XMS3 8GB (2 x 4GB) DDR3-1600 Memory  ($79.99 @ Micro Center)
Storage:
 Western Digital Caviar Blue 500GB 3.5" 7200RPM Internal Hard Drive  ($51.99 @ NCIX US)
Video Card:
 Asus Radeon HD 7850 2GB Video Card
Case:
 NZXT Phantom (White) ATX Full Tower Case  ($100.98 @ Amazon)
Power Supply:
 Corsair Enthusiast 750W 80+ Bronze Certified Semi-Modular ATX Power Supply  ($110.98 @ Newegg)
Optical Drive:
 Lite-On iHAS424-98 DVD/CD Writer
Total:
$842.35
(Prices include shipping, taxes, and discounts when available.)(Generated by PCPartPicker 2014-05-07 13:44 EDT-0400)

Frekwency

Grandmaster (2000 posts)






Your cable management is horrible

GiovanniM

Tier 2 (100 posts)






GiovanniMoonen wrote:Your cable management is horrible
It's actually pretty good! Everything is zip tied and out of sight. If you were to open the other side, you would see all the cords. Each cord you see actually is about a foot or two longer than it looks! It was pretty difficult to tuck it all in the small space behind the metal barrier, but I'm proud of how it looks  


Frekwency

Grandmaster (2000 posts)







---
Permissions in this forum:
You
cannot
reply to topics in this forum