Hey!
None of you will probably not recognize my name, BUT, my old username was FreeXpFourMe!
I stood around the community for months and months and actually quit after I got banned for botting Firemaking haha. (Haven't botted ever since lol).
Well, I'm back in the community!
I just hit one mil on RS07 (had 200k last week and I'm f2p). Nice to meet everyone and perhaps see some familiar faces?
(Just a friendly note, I liked the old forum design way better, the dark red theme.)
Picture of me with green phats. I REALLY like the look of them haha. They look so bright, don't they? (The flip that made me the last geepee to become a millionaire!)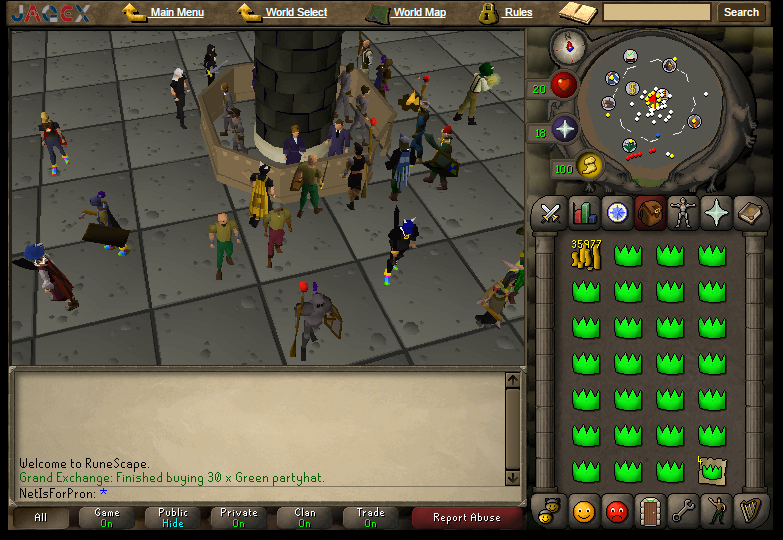 NetIsForPron

Tier 1 (Registered)






Welcome back! (although i don't know you from the past we could have a chat on irc or rs some time

_____________________
Spoiler:
My Vouches:http://www.smokinelite.com/t81285-kid-gildarts-vouches-19
My merching Log: http://www.smokinelite.com/t81013-kid-rampage5-s-merching-log#1121170
My Art log
: http://www.smokinelite.com/t81402-kid-s-art-log
My 1-99 Prayer guide: http://www.smokinelite.com/t81023-runescape-1-99-prayer-guide
[/center]

Gildarts

Forum Fanatic (1000 posts)






Welcome back and nice phats stack


What A Mugg

Tier 2 (100 posts)






can't say that name rings a bell, but anyway welcome back, hope you enjoy your stay here. and damn them party hats

_____________________

piramatrix

Forum Master (1500 posts)






Thank you everyone for welcoming me here!
Feels like home already!

NetIsForPron

Tier 1 (Registered)







---
Permissions in this forum:
You
cannot
reply to topics in this forum